musica reanimata
Society for the Promotion and Re-discovery of Composers Persecuted by the Nazi Regime
and Their Works (registered society)
---
Board of trustees:
Daniel Barenboim, Prof. Dr. Wolfgang Benz, Dr. Volker Hassemer,
Prof. Dr. Norbert Lammert, Udo Lindenberg, Prof. Udo Zimmermann

Honorary member: Berthold Goldschmidt (†)

Chairman: Dr. Albrecht Dümling
Secretary: Peter Sarkar
Welcome to the mr web site!
The society was founded in 1990 with the purpose of integrating the works of composers persecuted by the Nazi regime into present-day musical culture. To this end, it organizes lecture recitals, in co-operation with the
Konzerthaus Berlin
and with the radio station
Deutschlandfunk
. It also organizes musicological conferences, and publishes current research in a journal and in a series of books.
* * *
Our next lecture recital
Tuesday, 22. November 2016
Konzerthaus am Gendarmenmarkt Berlin, Musikclub, 20h
Escaped - fallen silent - rediscovered. The composer Berthold Goldschmidt
[
Preview »
]
* * *
musica reanimata on broadcast
Monday, 19. September 2016, 21.05 h, Deutschlandfunk:
Broadcast of excerpts from lecture recitals No. 124 and 125 (14. April and 23. June 2016, Konzerthaus Berlin)
Avantgarde and worker's song - How Imre Weisshaus turned into Paul Arma
//
Even Paris was no longer safe. Alexandre Tansman between Poland, France and the USA
[
www.deutschlandfunk.de/programmvorschau
]
* * *
New Publication
No. 21 in our Series of writings "Verdrängte Musik"
(Displaced Music)
has been published in 2015:
Gottfried Eberle: "Ein Zauber liegt in dem kleinen Lied". Die Klavierlieder von Erwin Schulhoff
("There is magic in this little song": Erwin Schulhoff's songs with piano accompaniment)
20 Euro. ISBN: 978-3-89727-536-2
Orders via your local bookseller or from the publisher:
PFAU-Verlag
Büdingen
[
www.pfau-verlag.de/shop/2-3.html
]
* * *
New musica reanimata CD
The second issue of our series with recordings of our lecture recitals has appeared recently. It contains recital No. 101 (Konzerthaus Berlin, 29. March 2012), featuring the british composer of Austrian Jewish parentage
Joseph Horovitz
. On the CD, there are his
Sonatina for clarinet and piano
(1981), the 2nd movement of the
Violin Concerto
(1951) and the
String Quartet No. 5
(1969), performed by Matthias Höfele (clarinet), Tatjana Blome (piano) and Ensemble Zeitlos: Claudia Sack, Philip Douvier, Friedemann Wollheim & Gabriella Strümpel. Also, you can listen to the composer talking with Dr. Albrecht Dümling (in German). Booklet in German and English (24 pages).
To buy the CD set, please contact our secretary:
Peter Sarkar, Steubenstr. 35, D-99423 Weimar
e-mail:
peter.sarkar@musica-reanimata.de
Price: 15 Euros, shipping fee 4 Euros (2 Euros within Germany, if buying 3 or more sets shipping is free).
Also available the set of two discs,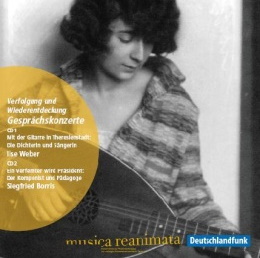 containing the concerts No. 72 (1.6.2006)

An ostracised is made president: The composer and educator

Siegfried Borris

(1906-1987)

.

Performers: Katharina Göres, soprano; Olga Kotchenkova, cello; Hanno Pilz, clarinet; Gottfried Eberle, piano; Albrecht Dümling talks with Juliane Lepsius and Gisela Bauer.

No. 82 (22.5.2008)

In Terezin with a guitar:

Ilse Weber

(1903-1944), poet and singer

Performers: Maria Thomaschke and Andreas Jocksch, singers and speakers; Kathrin Redlich, guitar; Timofey Sattarov, bajan; Volker Suhre, double bass; Winfried Radeke, arrangements, harpsichord and moderator.

Guest: Rahel Rosa Neubauer.

Price: 20 Euros, shipping fee 4 Euros (2 Euros within Germany, if buying 3 or more sets shipping is free, also in combination with the Horovitz CD).